"Azuriman...napheas...zondrobah! Back! Back vile thing to whence you came!"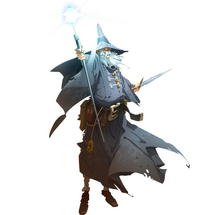 Background
Race - Human
Season - Zombicide: Black Plague
Based on - Crossover character, Massive Darkness
Gameplay
Skills
[Blue]
[Yellow]
[Orange]
[Red]

+1 die: Combat
+1 to dice roll: Combat
Spellcaster
Body slot
Ad blocker interference detected!
Wikia is a free-to-use site that makes money from advertising. We have a modified experience for viewers using ad blockers

Wikia is not accessible if you've made further modifications. Remove the custom ad blocker rule(s) and the page will load as expected.